Encore Park
Museum Of Street Culture
Dallas
2017
ClientFirst Presbyterian Church of Texas
Date2016– 2017
Size10.000 m2
Budget25 M$ USD
ScopeArtistic Direction, programming, design, and museography
Project leaderMarina Khémis
ArchitectGraham Greene, Oglesby Greene
Encore Park is an ambitious project to turn a neglected neighborhood of downtown Dallas into a cultural and social services hub with the Museum of Street Culture at its heart. Many aspects of Street Culture will be featured there in an innovative and cross-disciplinary programing closely linked to the history and current missions of Encore Park. The site revolves around the Stewpot -- Dallas' largest homeless shelter -- and the 1930s historic buildings: the Warner Brothers Art Deco building on 508 Park and the Dallas Power & Light Building on 515 Park.
Studio Adrien Gardère joined the design team of this unique project as artistic director of Encore Park and designer of the Museum of Street Culture.
Encore Park will include various programs such as a café run by Stewpot clients, a public plaza and community gardens, recording studios, The Museum of Street culture research center and exhibition spaces, art workshops and artists' residences and The Dallas Police Athletic League.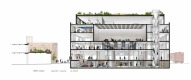 ClientFirst Presbyterian Church of Texas
Date2016– 2017
Size10.000 m2
Budget25 M$ USD
ScopeArtistic Direction, programming, design, and museography
Project leaderMarina Khémis
ArchitectGraham Greene, Oglesby Greene
Hôtel de la Marine