Aga Khan Museum

Toronto
2014
ClientAga Khan Trust for Culture
LocationToronto, Canada
Date2012 – 2014
Size1 000 m2
Budget90 M€
ScopeMuseography of all the museum, including first temporary exhibitions Team coordination between multimedia mediation, graphic design, accessibility, and lighting design
Project leaderCarole Pfendler, Marc Sarrazin
CuratorsSuren Melikian Shirvani, Heather Ecker
ArchitectMaki and Associates
MultimediaOn-Situ
GraphicsCL Design
SignageLocomotion
LightingACL
AwardsApollo Awards 2014 shortlist
Photo creditGary Otte, Janet Kimber, On situ,Studio Adrien Gardère
Inaugurated in September 2014, the Aga Khan Museum in Toronto is the first museum in North America entirely dedicated to the Arts of Islam. Studio Adrien Gardère won the international consultation for the design of the permanent and temporary galleries of the Aga Khan Museum and the furnishing of its of public spaces.
Following Fumihiko Maki's architectural principles, with its central courtyard — the museum's light well — and the circumambulation to which it invites the public; the scenography of the permanent galleries is organized around three monumental works of art: a Mamluk fountain, a Safavid carpet and an Andalusia ceiling, all deploying various chronological and geographical visiting paths. Multimedia installations -- conceived with on-situ -- play an essential role throughout the museum's path, inviting visitors to delve into the magnificent works of art's details at unsuspected scales.
The Studio also designed the first two temporary exhibitions of the Aga Khan Museum - « In Search of the Artist » and « Garden of Ideas ».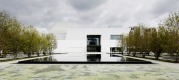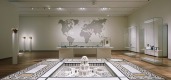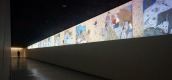 ClientAga Khan Trust for Culture
LocationToronto, Canada
Date2012 – 2014
Size1 000 m2
Budget90 M€
ScopeMuseography of all the museum, including first temporary exhibitions Team coordination between multimedia mediation, graphic design, accessibility, and lighting design
Project leaderCarole Pfendler, Marc Sarrazin
CuratorsSuren Melikian Shirvani, Heather Ecker
ArchitectMaki and Associates
MultimediaOn-Situ
GraphicsCL Design
SignageLocomotion
LightingACL
AwardsApollo Awards 2014 shortlist
Photo creditGary Otte, Janet Kimber, On situ,Studio Adrien Gardère
French-American Museum
Musée du Louvre-Lens