Perfumes of Egypt
Perfume and cosmetic in ancient Egypt
Egyptian Museum
2002
ClientFrench Embassy in Cairo – French ministry of Foreign affairs – French ministry of culture
LocationCairo,Egypt
DateApril - Oct. 2002
Size200 m2
Budget150 000 USD
ScopeArt Direction, Scenography, Design
Photo credit© Studio Adrien Gardère
"Perfumes of Egypt" was held simultaneously in Cairo, at the Egyptian National Museum, the Museum of Ancient Agriculture, and the Museum of Islamic Art in Cairo, in Paris, at the Musée du Louvre and in Marseille, at the Musée de la Vieille Charité.
This series of temporary exhibitions gave an account of recent scientific discoveries in the fields of cosmetology and daily life at the time of the pharaohs, and their extensions in Egypt and the Arab-Muslim world.
First temporary exhibition ever designed by a foreigner at the Egyptian National Museum, this exhibition brought together for the first time the masterpieces of the national collections around the themes of medicine, body care, perfumery, and the secular and sacred rites of Pharaonic Egypt.
This exhibition was entirely designed and manufactured in Egypt.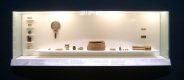 ClientFrench Embassy in Cairo – French ministry of Foreign affairs – French ministry of culture
LocationCairo,Egypt
DateApril - Oct. 2002
Size200 m2
Budget150 000 USD
ScopeArt Direction, Scenography, Design
Photo credit© Studio Adrien Gardère
Modamorphose
Citoyens Bohèmes