Harper's Bazaar
Premier Magazine De Mode
MAD
2020
ClientMusée des Arts Décoratifs
LocationParis, France
DateFeb. 2020 - Jan. 2021
Size1 400 m2
Budget257 000 € excl. VAT
ScopeArtistic direction, scenography, design
Project leaderCarole Pfendler, Francesca Galdangelo
Assisted byFélicie Barbey
CuratorsOlivier Gabet, Eric Pujalet-Plaà, Marianne de Galliard assisted by Lola Barillot (documentation, coordination)
MultimediaCadmos
GraphicsBaldinger Vu-Huu
LightingACL
ManufacturerVolume International, Felix&Co
MountmakersLe Socle
Photo credit© Luc Boegly
For the reopening of the Stephen A. et Christine Schwarzman Fashion Galleries of the Musée des Arts Décoratifs de Paris - renovated by the Studio in partnership with Bien Urbain Architects and ACL Lumières - the MAD entrusted Studio Adrien Gardère with the design of its inaugural exhibition devoted to the 150 years of the American fashion magazine Harper's Bazaar.
The chronological and thematic exhibition establishes a dialogue between sixty haute couture and ready-to-wear creations with their original publication in Harper's Bazaar and the magazine's rich collaborations with great photographers, writers, illustrators, painters, and fashion designers.
Conceived around a movement, that of the turned pages of a magazine, the scenography takes full advantage of the Studio's new modular exhibition system, designed as exhibiting machines, to create as many tableaux of one and half-century of the fashion history and of the feminine silhouette.
Deployed on the two levels of the new fashion galleries, each of these tableaux plays with the perspectives offered by the Palais du Louvre, the Rue de Rivoli, and the Jardin des Tuileries.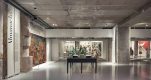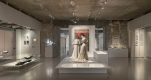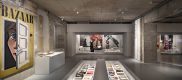 ClientMusée des Arts Décoratifs
LocationParis, France
DateFeb. 2020 - Jan. 2021
Size1 400 m2
Budget257 000 € excl. VAT
ScopeArtistic direction, scenography, design
Project leaderCarole Pfendler, Francesca Galdangelo
Assisted byFélicie Barbey
CuratorsOlivier Gabet, Eric Pujalet-Plaà, Marianne de Galliard assisted by Lola Barillot (documentation, coordination)
MultimediaCadmos
GraphicsBaldinger Vu-Huu
LightingACL
ManufacturerVolume International, Felix&Co
MountmakersLe Socle
Photo credit© Luc Boegly
Ogi No Mai
Koï current HK