10 000 years of Luxury

Louvre Abu Dhabi
2019
ClientLouvre Abu Dhabi with partnership of Musée des Arts Décoratifs Paris and Agence France Muséums
LocationAbu Dhabi, UAE
DateOct. 2019- Feb. 2020
Size1 300 m2
ScopeArt direction, design, scenography
Project leaderMarc Sarrazin, Félicie Barbey
CuratorsOlivier Gabet, Deputy Managing director of Musée des Arts Decoratifs
MultimediaOn-Situ
GraphicsCL Design
LightingACL
MountmakersAïnu
EngineeringBollinger & Grohman
Local partnersSelim Sinno
Photo credit© Department of Culture and Tourism - Abu Dhabi/ Photo: Mohamed Somji/ Seeing Thing
This exhibition, organized by Louvre Abu Dhabi in partnership with Musée des Arts Décoratifs and Agence France-Muséums, celebrates a world history of the lavish and the luxurious through 350 objects – fashion, jewelry, art, furniture and design.
Drawing on the collections of Musée des Arts Décoratifs and other French museums, including Musée du Louvre and Musée du Quai Branly-Jacques Chirac, the exhibition offers a rare chance to glimpse, revel in and evaluate true luxury. The exhibition design explores the ways in which luxury has been interpreted by diverse cultures throughout ages: from extravagant offerings for the divine, to golden furniture fit for royalty and the iconic couture of fashion houses and virtuoso objects of luxury houses.
The scenography offers a journey from antiquity to the present day, oscillating from contemplation to surprises, from abundance to rarity, from extravagance to sobriety, from sophistication to simplicity.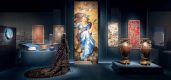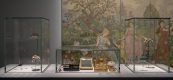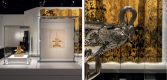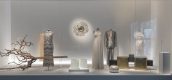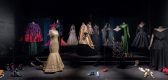 ClientLouvre Abu Dhabi with partnership of Musée des Arts Décoratifs Paris and Agence France Muséums
LocationAbu Dhabi, UAE
DateOct. 2019- Feb. 2020
Size1 300 m2
ScopeArt direction, design, scenography
Project leaderMarc Sarrazin, Félicie Barbey
CuratorsOlivier Gabet, Deputy Managing director of Musée des Arts Decoratifs
MultimediaOn-Situ
GraphicsCL Design
LightingACL
MountmakersAïnu
EngineeringBollinger & Grohman
Local partnersSelim Sinno
Photo credit© Department of Culture and Tourism - Abu Dhabi/ Photo: Mohamed Somji/ Seeing Thing
Koï current HK
Datazone