Musée des Arts Décoratifs
Stephen A. and Christine Schwarzman Fashion Galleries
Paris
2020
ClientMusée des Arts Décoratifs
LocationParis
DateNov. 2018 - Feb. 2020
Size1 400 m2
Budget2 140 100 € HT
ScopeArchitectural renovation, artistic direction, design
Project leaderFrancesca Galdangelo, Carole Pfendler
PartnersBIEN URBAIN - Atelier d'architecture
LightingACL
EngineersBETOM Ingenierie
Photo credit©Luc Boegly
Late 2018, Studio Adrien Gardère won the competition for the complete renovation of the Fashion Galleries of The Musée des Arts Décoratifs in Paris (MAD). To carry out this project -- benefiting of the exceptional patronage of Stephen A. and Christine Schwarzman -- the Studio joined forces with architects Bien Urbain, lighting designer Alexis Coussement ACL and engineering consultant BETOM.
The objective of the project is to create an "exhibition machine," capable of hosting all forms of scenography and exhibition design for one of the most important fashion collections in the world; and to meet all the museum's requirements and expectations, in terms of comfort, modularity, and ease of use, as well as in terms of preventive conservation, security and work protection. The project also aims to allow the rediscovery of the architectural structure of the heritage Rohan Wing -- originally of double height -- and to reunite, thanks to a new staircase, the two temporary exhibition floors of the museum. 
The Studio also designed the museum's inaugural exhibition devoted to the 150 years of the American fashion magazine Harper's Bazaar.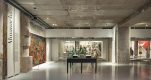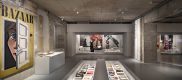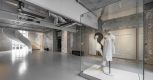 ClientMusée des Arts Décoratifs
LocationParis
DateNov. 2018 - Feb. 2020
Size1 400 m2
Budget2 140 100 € HT
ScopeArchitectural renovation, artistic direction, design
Project leaderFrancesca Galdangelo, Carole Pfendler
PartnersBIEN URBAIN - Atelier d'architecture
LightingACL
EngineersBETOM Ingenierie
Photo credit©Luc Boegly
Narbo Via
Drishyakala Art Museum