Maximum India

Kennedy Center
2011
ClientThe John F. Kennedy Center for the Performing Arts
LocationWashington DC, USA
DateMarch 2011
Size6 000 m2
Budget7 M$ USD
ScopeArt direction, scenography, design
Project leaderMathieu Muin, Clementine Terramorsi
CuratorsAlicia Adams, VP international programming, Dr Ruchira Ghose
GraphicsGrand Mother India
LightingGlenn Turner, Kennedy Center
VideoEmmanuel Grimaud
Photo creditMargot I. Schulman, Studio A. Gardère
Since 2005 Studio Adrien Gardère was in charge of the artistic direction and design of all exhibitions and installations of the international festivals of the Kennedy Center, the largest center of performing arts in the US, which offers more than 8.000 m2 of exhibition spaces.
Maximum India — fourth International festival designed by the Studio — celebrated Indian art and culture through many performances, extraordinary exhibitions on crafts, textiles jewelry, and the works of major contemporary artists.
The Studio designed all four featured exhibitions:
- Kaleidoscope: Mapping India's craft
- Treasures of the Gem palace of Jaipur
- To stir the still air: Pankha (fans) from the collection of Jatin Das
- Saris on the Ghat
accompanied three major contemporary artists' in their unique installations in the heart of the Kennedy Center and its glass façade:
- Bharti Kher: I've got eyes at the back of my head
- Jitish Kallat: Public notice 2
- Reena Saini Kallat: Falling fables
and designed a children'space « hi! I am India » with renowned Indian graphic designer Thukral & Tagra.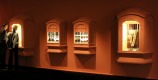 ClientThe John F. Kennedy Center for the Performing Arts
LocationWashington DC, USA
DateMarch 2011
Size6 000 m2
Budget7 M$ USD
ScopeArt direction, scenography, design
Project leaderMathieu Muin, Clementine Terramorsi
CuratorsAlicia Adams, VP international programming, Dr Ruchira Ghose
GraphicsGrand Mother India
LightingGlenn Turner, Kennedy Center
VideoEmmanuel Grimaud
Photo creditMargot I. Schulman, Studio A. Gardère
Renaissance
Anicroches