Fondation Cartier
A Beautiful Elsewhere
Power Station of Art
2018
ClientFondation Cartier pour l'art contemporain
LocationPower Station of Art
DateApril - July 2018
Size4.500 m2
ScopeScenography, design
Project leaderMarina Khémis
CuratorsHervé Chandès, Grazia Quaroni, Fei Dawei
SignageThonik
CoordinatorLauriane Gricourt
Photo creditLuc Boegly
A Beautiful Elsewhere is the largest retrospective ever of the Fondation Cartier pour l'art contemporain and the first ever in China. Presented in Shanghai at the Power Station of Art (PSA), one of China's major cultural institutions, this exhibition allows the public to discover over 100 emblematic artworks from the contemporary international art scene. 
The Fondation invited Studio Adrien Gardère to conceive and design this unique exhibition of over 4.500 m2 and over 4 floors of the PSA, and to give shape to this unique journey around multidisciplinary contemporary artistic worlds.
The Studio worked on an unprecedented occupation of the PSA spaces. In addition to the galleries spaces, the artworks and the scenography invest, color and spread through every corridor or circulation spaces. The placement choices of the artworks, the layouts and the design of the exhibition supports, were conceived in the perspective of connecting and creating a dialogue between the artistic universes.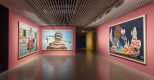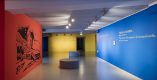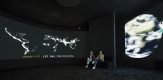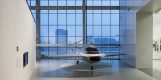 ClientFondation Cartier pour l'art contemporain
LocationPower Station of Art
DateApril - July 2018
Size4.500 m2
ScopeScenography, design
Project leaderMarina Khémis
CuratorsHervé Chandès, Grazia Quaroni, Fei Dawei
SignageThonik
CoordinatorLauriane Gricourt
Photo creditLuc Boegly
Swimming Koinobori
Koinobori Now!