DAG
Delhi Art Gallery
New-Delhi
since 2017
ClientDAG
LocationNew-Delhi - New-York - Dubai - London - Shanghai
Datesince 2017
ScopeArtistic direction, exhibition design
Project leaderCarole Pfendler, Francesca Galdangelo, Marc Sarrazin
CuratorsKishore Singh, Pdt Exhibitions
CoordinatorHead of production: Melanie Adiceam
Since 2017, Delhi Art Gallery entrusted Studio Adrien Gardère to design its major international exhibitions in India and abroad.
As artistic director and scenographer the Studio has designed all the following exhibitions:

India's French Connection, New Delhi - Habitat Centre — Feb 1, 2018 - Feb 11, 2018
This historical exhibition, focusing on the relationship of twenty-seven Indian artists with France, highlights Paris as the cradle of Indian modernism and what Indian artists have learned and gained from it.

Navratna: Nine Gems, New Delhi Art Fair — February 9 - February 12, 2018
This unique exhibition regrouped for the first time in one single show the nine India' national treasure artists : Nandalal Bose - Sailoz Mookherjea - Nicholas Roerich - Jamini Roy - Amrita Shergil - Abanindranath Tagore - Gaganendranath Tagore - Rabindranath Tagore - Raja Ravi Varma.

Art Dubai, Dubai — March 20 - March 24, 2018

Chittaprosad: A Retrospective, New York DAG — March 16, 2018 - July 6, 2018
For the first time outside India, this retrospective, presented at DAG New York, is dedicated to the work of Bhattacharya Chittaprosad (1915-78), best known for documenting the horrific 1943-44 genocide in Bengal, for his political art and his prints.

Masterpiece London 2018, London — Jun 27, 2018 - Jul 4, 2018
The Studio designed DAG's booth for the prestigious London Masterpiece Fair.

From Raj to Swaraj, Old Delhi - Red Fort Museum by DAG — starting October 2018
DAG has entrusted the Studio to design its first Museum ever set in the historic and prestigious site of the Old Delhi Red Fort heritage Barracks. The Museum exhibitions focuses on the birth of national Indian art from 1857 to 1947, and extend over three floors and more than 2000 m2.
French Connection: Indian Artists in France, New York DAG — Nov. 14 - March 8, 2019
After New-Delhi, the historic exhibition throwing light on the unique relationship between Indian artists and Paris, is displayed and shown in the New York DAG gallery.

DAG at Art Shanghai 2018, Shanghai —  Nov 9 - Nov 11, 2018
DAG entrusted the Studio to design its booth dedicated to Natvar Bhavsar — a major Indian colour-field abstractionist — presented for the first time at China's leading international art fair, ART021 Shanghai Contemporary Art Fair.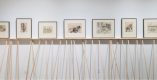 ClientDAG
LocationNew-Delhi - New-York - Dubai - London - Shanghai
Datesince 2017
ScopeArtistic direction, exhibition design
Project leaderCarole Pfendler, Francesca Galdangelo, Marc Sarrazin
CuratorsKishore Singh, Pdt Exhibitions
CoordinatorHead of production: Melanie Adiceam
Mary Ellen Mark
Swimming Koinobori